Notes
If I had to choose just one word to describe the new West Coast Kids dolls it would be "quality". Everything about these dolls is the best of the best: vinyl, body sculpt, wig, eyes, and so on. The first doll that was released, Summer, has a wig with two different tones of blond hair mixed in and that is nicely styled. The eyes have great depth and sparkle. The face paint is wonderful with the best eyebrow painting I have seen and lips that are shaded, not just one tone. The vinyl color is natural and the extra blushing on face and body appropriate for girls who spends a lot of time outside. The torso, arms and legs have the most detailed sculpt I have ever seen in a play doll with lovely definition from muscles and bones. The dolls' stringing is top notch and you can tell they will stand up well to years of play.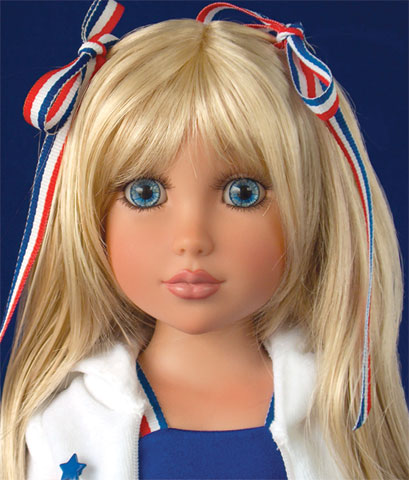 I interviewed the dolls' creator, Kathryn Pardee, by phone and asked her what made her decide to start a new doll line. "I wanted to see a doll that was about creativity and imagination, and sharing time between mother and daughter, not just about buying her every new outfit that comes out." So, along with the first doll, West Coast Kids released two patterns and several more have come out since.
Kathryn's background is in fine art. "I have a Bachelor of Science in Design from University of California, Davis. I have been a professional figurative watercolor artist for 10 years and a porcelain doll maker since 1993." Rather than physically sculpting the doll herself, Kathryn made "painstakingly photorealistic" renderings in pencil from all angles to represent a typical ten-year-old girl, then hired industry specialist Sandra Bilotto to sculpt the parts and make the initial molds. "I was very concerned that the joints on the doll -- I wanted them to move naturally and be very sturdy." Once the molds were made and she was happy with the samples, production molds were made at the factory (in China). "They then poured vinyl into the production molds and sent me 3 dolls in pieces which I painted with an airbrush. They then copied the painting." Kathryn worked closely with them to make sure the quality was to her exacting standards.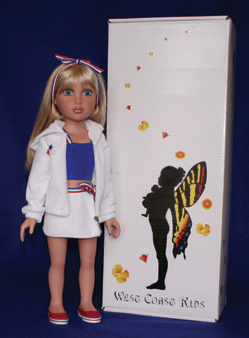 "I wanted an all-vinyl doll because they look more real to me than a doll with a cloth torso." The eyes were intentionally exaggerated and enhanced with applied lashes above and below because, "she is still a fantasy."
The dolls have been advertised through large ads in major doll magazines which is getting the attention of adult doll collectors even though the dolls were designed for children. Judging from the reaction of my daughter, who appropriated Summer immediately, renamed her Truly and carried her off to her room, she will be a big hit with them. "One grandmother called me", Kathryn said, "and told me she was buying Summer to play with herself and that she'd let her granddaughter have her after she was gone." At $115, these dolls are at the high end of the play doll market, but this is truly a case of "you get what you pay for".
The dolls come in a sturdy presentation box, shown to the right, and are fastened in well though not excessively. Summer, who is named after one of Kathryn's daughters, has an extra outfit packed in the box with her which includes a cute squash paddle with the company logo on it (a young girl with butterfly wings holding her doll). The doll also has a certificate of authenticity signed by the creator and a card describing her and listing care instructions.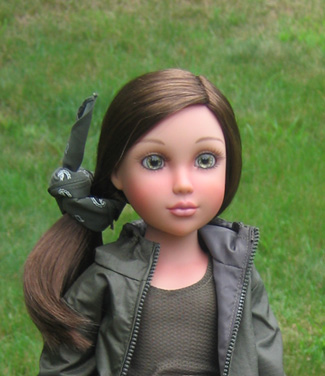 The second West Coast Kids doll, Sierra, was introduced in July 2006. Sierra is a brunette with green eyes, like Kathryn's other daughter Sierra. Sierra only comes with one outfit but it is quite elaborate. Sierra lives in the mountains of California and likes to hike, snowboard and rock climb. Her accessories will include a snow board (with custom graphics of the night sky), backpack, tent and sleeping bag.
If you collect other dolls, you will find that these are most similar in construction to the Magic Attic Club dolls. The pictures below show how Summer (on the left) compares to Magic Attic Club (in the middle) and also an American Girl (on the right). The West Coast Kids doll is slightly taller and slimmer than Magic Attic with a more defined waist. Her arms and legs are slightly longer. ("The drawings for Summer were done to scale using the typical profile for a 10 year old child's anatomy," says Kathryn.) Her arms look longer mostly because they are not as bent at the elbow as the other dolls'.
West Coast Kids, Magic Attic and American Girl Body Comparison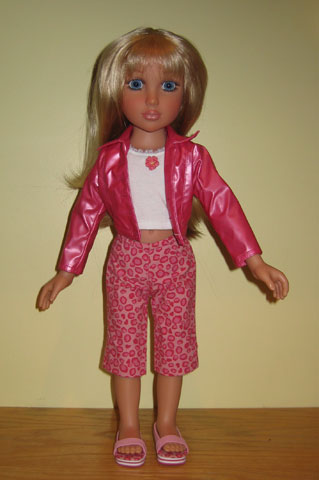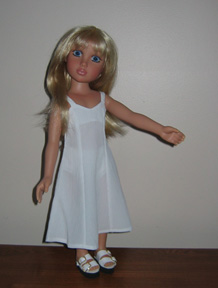 Even though the West Coast Kids' waist is slimmer, her hips are about the same size as Magic Attic, so she fits quite well into their clothes. On the left you can see Summer wearing Magic Attic Club Chloe's starter outfit. The sleeves are a little too short for her but everything else fits well, including the shoes. This is wonderful news since this means that the dolls will have almost endless wardrobe possibilities. For instance Summer can wear the cute beachwear from the Dream Doll Designer Summer Sizzle collection, such as this white seersucker sundress shown in the picture on the right. With their elegant body sculpt, Summer and Sierra will also look stunning in the fantasy creations from Carpatina Dolls and Stardust Classics. Being 18", she can also use all these dolls' accessories and even the furniture and extras from the American Girls, though their clothing would be too big.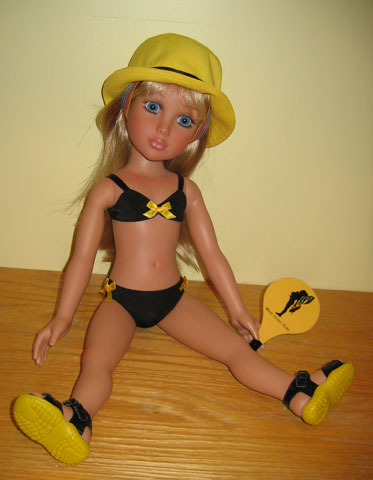 Kathryn designs the clothing for the dolls, and they are cute and well made. The shoes are particularly nice and realistic. Notice the excellent detail in the sandals of the black bikini beach outfit to the left. This is a the second outfit which is included with Summer.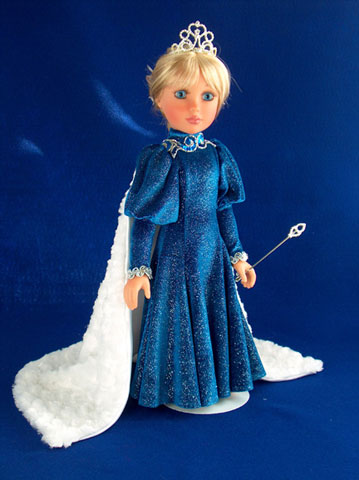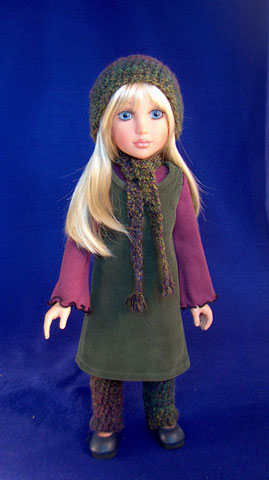 As mentioned earlier, Kathryn also designs sewing patterns for the dolls, "though one of my daughters creates the knitting and crochet patterns." The two pictures to the right are examples. The Snow Queen gown and cape is sure to capture the imagination of any little (or big) girl.
If your doll is coming to live in a colder climate, like mine, you'll appreciate the new snowboarding and hiking clothes that were recently released with Sierra. Naturally, all the clothing fits both dolls. Below is Summer in the new Snow Board outfit and Sierra in the Cold Weather Back Pack outfit she comes in, which is also available separately.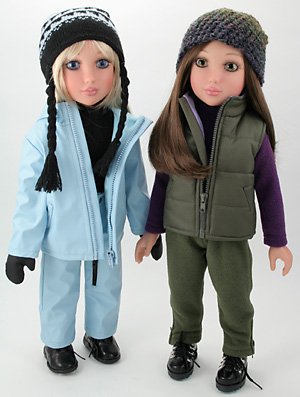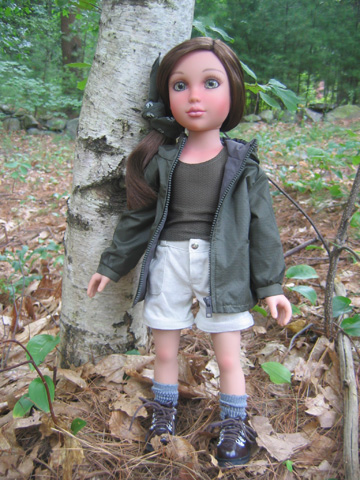 Sierra recently joined her sister at our house and she is stunning. It is a good thing that we don't have to worry about sibling rivalry between our dolls because I think she is even more fabulous than her sister. Since she arrived in July, she immediately changed into a shorts outfit to explore our yard. This Warm Weather Back Pack outfit features very realistic details like the zip-off pant legs and another pair of fabulous hiking boots, in brown as opposed to her starter outfit's black pair.
I think it is wonderful to have these new dolls on the scene with so much to offer. Sierra was even better than I expected her to be and I look forward to more and more quality offerings from West Coast Kids.