Doll Stores | Furniture and Accessories for 18 Dolls | Homemade Doll Clothing and Accessories | Secondary Market | Other Links
There are many links to manufacturers and other external sites sprinkled throughout Just Magic on the pages they are relevant to. Here are some general links that did not fit in elsewhere.
This is only a small sampling of the on-line doll stores that carry the products described in Just Magic. In most cases, I have had good, personal experience buying from these stores/individuals which is why I recommend them. If you would like to add a link to this page, please send me e-mail. Please note that adding a link is at my discretion.
Larissa has a marvelous on-line shop with dolls, clothing, accessories and everything else you could need for you 18" vinyl play dolls. This is a must-visit on-line store!

Little Princess Frocks
Susan has wonderful dolls and doll items at her on-line store, and the website itself is a work of art!
Marsha carries Carpatina, Magic Attic and many other delightful dolls, including a section of pre-owned dolls.
Debra Richards carries 18" dolls and accessories, including Magic Attic.
Millie has some wonderful clothes, including great matching girl/doll sets (some of which are modeled by my darling girls).

Furniture and Accessories for 18" Dolls
18" doll furniture, accessories. Always something interesting!
General doll making supplies and accessories (great shoe and wig source).
Great jewelry and accessories.

Paper Minis
Paper Minis: publisher quality printies on CD for doll & dollhouse accessories. Available for 1", 12" & 18" scales; plus dollhouses, paper dolls, ornaments & candy boxes. Free samples and newsletter on website.

Homemade Doll Clothing and Accessories
Beautiful Dreams: Gert makes some lovely fantasy-inspired doll clothing for 15" - 18" dolls.

The secondary market is the only place to purchase many of the items described on Just Magic. Manufacturers may retire dolls, outfits or accessories. Companies go out of business. Some dolls are done as special editions, such as the Tonner Penney and Friends done for JP Penney. So, here is where to go if you are looking for something in particular.
THE place to buy anything.
JustPretendDolls at Yahoo Groups
This group encourages trading and selling amongst participating members. (For other groups, check first with the moderator to find out the group's policy before posting for sale lists.) If you are looking for something that was sold by iDolls.com, chances are someone on this list has it.
MagicAtticDolls at Yahoo Groups
This group also encourages trading and selling amongst participating members.

Even more commercial web sites can be found using the following Webring: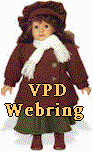 The Doll Links website has "Doll identification: Links to websites for help with identifying dolls from the 1800s to 2000s, organized by years, doll name, and manufacturer; plus links to other doll resources". It is huge and very up-to-date.

Copyright © 2002-2004 Maria Greene All Rights Reserved
Home • About Just Magic • Meet the Dolls • Articles • Pictures and Stories • Message Boards • Links • Contact the Webmaster