Don't you hate special-interest web sites with neglected message boards that have just a few postings, usually by the webmaster? Me too! Instead of creating a new message board for Just Magic, I suggest you share your interest in 18" vinyl play dolls through

. There are several wonderful groups that you can chose from, some of which have over a hundred members and have been around for years. Note that there are more groups than these (that you can find using the search feature at YahooGrups) but these are my personal favorites.
This group focuses on Magic Attic Club, though discussion of other dolls is welcome.
Primarily for discussion of Stardust Classics, Dream Doll Designer and Friend to Friend dolls and other dolls from the now-defunct iDolls.com. A lot of selling/trading among members goes on in this group.
NOTE: I inadvertently changed the JustPretendDolls discussion group to "inivitation only" while trying to deal with a spam issue. Please send me an e-mail if you would like me to send you an invitation.
The official Carpatina Dolls Club for collectors of the Fantasy Adventures dolls and the clothing from the Girlfriends Collection.
For American Girl doll collectors.
This is an active list of Natterer doll lovers.
The Sasha list is very lively and has many Sasha experts. No selling allowed and on-topic for the most part.
This list was started for selling and has branched out to a lot of chatting too. Nice list.
Devoted to Robert Tonner's 18" Ann Estelle, and I do mean devoted! The photos are marvelous, there are great patterns in the Files section, and lots of fun talk. Covers Penney & Friends and the Robert Tonner Collectibles as well.
This is a new list devoted to Effanbee Dolls: vintage, reproduction and modern. It is moderated by a customer service representative of the new company.
There is also a fantastic group of mostly younger and enthusiastic American Girl fans at a service called Hostboard. It is called the American Girl Fans Message Board:

Another wonderful AG board is at American Girl Playthings: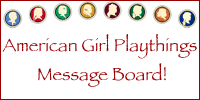 Copyright © 2002-2004 Maria Greene All Rights Reserved
Home • About Just Magic • Meet the Dolls • Articles • Pictures and Stories • Message Boards • Links • Contact the Webmaster