Notes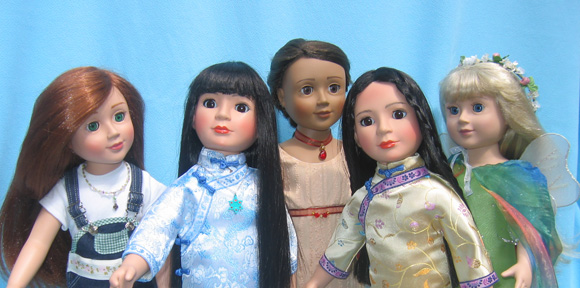 My dolls, Emma, Reyna, Julia, Ana Ming and Isabella in a group shot
A relatively new entry into the quality, all-vinyl play doll market is the Carpatina Dolls' Fantasy Adventure collection. These dolls have been shipping since July, 2002. The owner and president of the company is Mihaela Hinkle and the company is based in Nashua, NH. You can read a feature article about the debut of the doll line based on an interview with Mihaela called "Carpatina Dolls ~ A New Flight of Fancy". The Fantasy Adventures dolls are slim, all-vinyl doll and they come with an extensive line of fantasy-inspired and modern clothing and accessories. Carpatina Dolls also carries a line of clothing that fits American Girl-size dolls called the Girlfriends Collection. This collection features modern clothing and some lovely and unique Medieval Princess gowns.
Mihaela worked at Just Pretend/iDolls.com/Kid Galaxy where she designed for the Stardust Classics line, among others. Mihaela is a native of Romania (hence the Carpathian Mountains appearing in her logo) and has an interesting and colorful revolutionary past that you can read about on her website.
The Dolls
The first two dolls in the Carpatina Dolls line were Julia and Isabella, shown above in their starter outfits and with their box. The dolls have the same face but their differences in coloring and hairstyle give them quite distinctive looks. The starter outfits are simple but pretty and of good quality fabric. Under their starter outfits the dolls are wearing white panties and undershirts. The simple, slip-on shoes are fabric that match the dresses and are trimmed with bows. The box is very sturdy and includes ribbon ties so that the dolls can be returned to their box if necessary.
| | | | |
| --- | --- | --- | --- |
| | | | |
| | Emma | Ana Ming | |
A third doll, Emma, was introduced in 2003; she has red hair and green eyes. Most recently in 2006, a fourth doll, Ana Ming was added to the line. Ana Ming is Asian and an entirely new face sculpt. Another version of the Asian doll is being sold by Gali Girls -- she is a Chinese-Jewish girl named Reyna and her adventures are described in a book call "Reyna and the Jade Star". Reyna has bangs and comes in a different fabric starter outfit.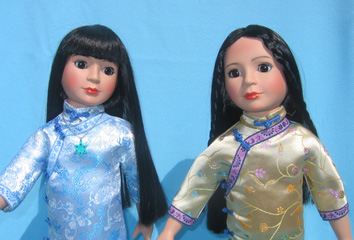 Gali Girls Reyna and Carpatina Ana Ming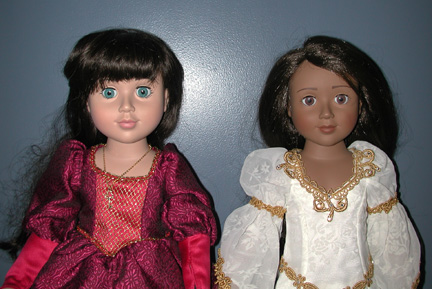 The dolls' faces are exceptionally beautiful and were sculpted by Vernon Thornblad who also sculpted the faces of the Stardust Classics dolls. Mihaela wished the Carpatina Dolls to be essentially a continuation of the Stardust Classics line and you can see the family resemblance between Stardust Classics Alissa and Fantasy Adventures Julia in this picture. The main difference in the face mold is in the mouth -- it has been softened and rounded more. The eyes are also slightly more natural looking, in my opinion giving Julia the look of Alissa's prettier cousin. (Note that my Julia doll is a prototype doll and that her vinyl is a little darker than that of the production dolls'.)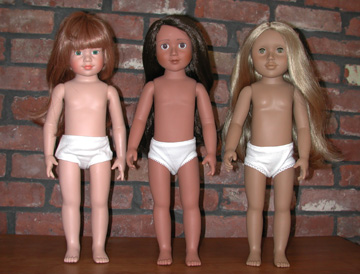 The photo on the right illustrates the similarity in construction between the Magic Attic Club, Carpatina and Just Pretend dolls respectively (from left to right they are Megan, Julia and Sydney). Carpatina Dolls and Just Pretend have identical bodies and are just slightly longer in the torso than Magic Attic Club dolls.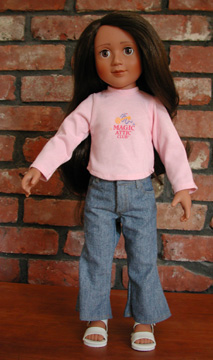 The dolls share clothing perfectly with MAC dolls, including shoes. On the left is a picture of Julia wearing the Magic Attic Club Members Only outfit.
The bodies are made of excellent-quality vinyl and they are strung (each limb and the head independently), they have sleep eyes and the hair is a good-quality wig.
Like the Magic Attic characters, the Fantasy Adventures girls go on exciting adventures. Instead of a magic mirror, these girls have wonderful moonstone necklaces given to them by the Great-Aunt Cordelia. When they put on the necklaces and make a heart-felt wish, they are transported to distant places and times. You can buy your doll and your little girl matching "moonstone" necklaces to act out the fantasy.
Fashions
Mihaela's education and background is in fashion design. This is evidenced by the beautiful clothing she has designed for the dolls. Each outfit has special detailing like hand-applied glitter on Isabella's fairy dress and wings, and diamond-like rhinestones on the trim of Julia's Renaissance-inspired gown. They each have accessories available including a headpiece, cape and wand.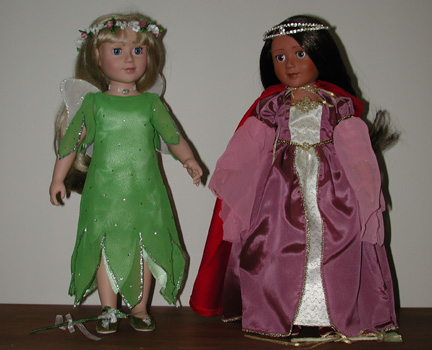 Ana Ming was introduced with this lovely Yuan Dynasty Princess gown. Additional gowns created with her in mind will be available in the 2006 holiday catalog.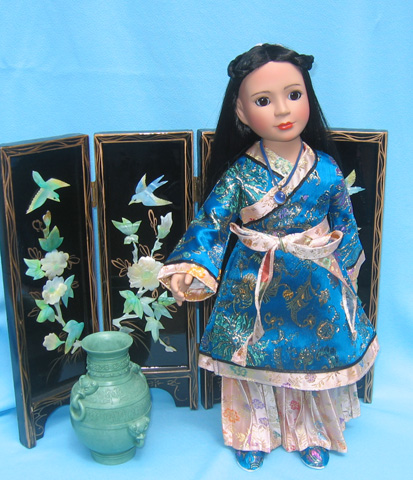 A fun and unique feature of Carpatina Dolls is the free Doll Club. Doll club members get a discount (currently 15%) off regularly priced items; they are the first to learn about new products, including Mihaela's excellent club-exclusive, one-of-a-kind and prototype outfits; they can enter contests; they can discuss the dolls on the club's YahooGroups message list, and so on. Here is a picture of my dolls (including a West Coast Kids friend) wearing the 2003-2006 Club Exclusive outfits.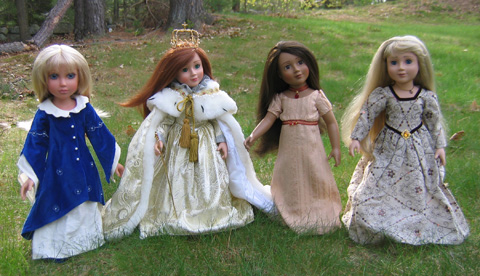 Another wonderful feature of Carpatina Dolls is the president. Mihaela actually consults and listens to her customers! We asked repeatedly for an Asian doll and Ana Ming is the lovely result. Wonderful dolls, wonderful costumes and a wonderful company. It doesn't get any better than this!
| | |
| --- | --- |
| | Checklist ~ Track your collection using this Excel spreadsheet checklist from the Carpatina Dolls website. (Use your browser's back button to return here.) You must have a copy of Excel to view this file. |
You can sign up for the mailing list at the Carpatina Dolls website to receive your own paper copy of the latest catalog and updates as they become available. At the website you can also download a PDF version of the catalog.
Here is the very first Carpatina catalog, reproduced in its entirety: