Notes
| | |
| --- | --- |
| | Overview and History ~ This page has detailed information about the Just Pretend/Kid Galaxy/iDolls.com company that produced the Dream Doll Designer line (along with Stardust Classics and Friend-to-Friend dolls). |
| | Checklist ~ Track your collection using this checklist. You may also download the checklist as an Excel spreadsheet: Dream Doll Designer Checklist. (If you want to print it, it will be easier and come out better from within Excel.) |
The Dream Doll Designer (DDD) dolls are also 18.5" with the same body as the Stardust Classics. Some of the dolls have the same face as the Stardust Classics, designed by Vernon Thornblad. New faces for these dolls were also sculpted by Jill Nemirow-Nelson. The DDD dolls were unique because you could design them yourself using a CD-ROM distributed free by the company or using the company website. From within the program you could select from six different face molds, numerous hairstyles, hair colors, skin tones, eye colors, etc. Even several different styles of freckles. The company literature claims there are over 69 billion combinations! Once the customer created her doll, she could dress her interactively, choosing from hundreds of pieces of doll clothes, and then order the outfits and the doll. Because each doll was created specially and air-shipped from the factory in China, the custom dolls were quite expensive at $84.95 (though competitive with American Girl dolls). The clothing was fairly reasonably priced and was quite sophisticated for dolls who were supposed to represent 10 year old girls; a nice change from other, similar doll lines.
The DDD program is still fun to play with, especially for girls with large DDD clothing collections, since you can easily try different outfits on the dolls. (Contact Ruth if you'd like to buy a copy for yourself.) Here is a screen shot from the program: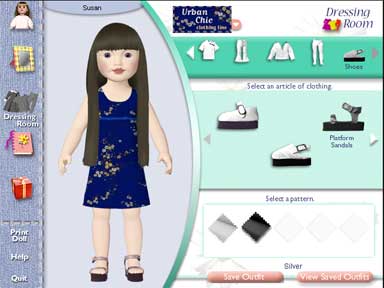 DDD Showcase Dolls
There were 13 named DDD "Showcase Dolls" that were available through the web site and the iDolls.com catalog. The company kept a stock of these on hand. They were $84.95, like the custom dolls. The DDD Showcase dolls came dressed in either of these simple starter outfits shown below. All DDD dolls (custom and Showcase) came packed in yellow and white checkerboard boxes.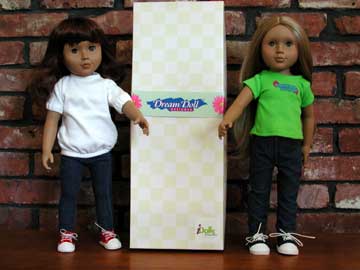 These are the DDD Showcase dolls. Sydney is the rarest and most sought-after DDD Showcase doll. Diana and Emma were the last to sell out and the only that were available when the going-out-of-business sale prices reached 80% off, so these are the easiest to find on the secondary market. Click on a picture to see a larger close-up, a full-length picture and the catalog picture, if available.
| | | |
| --- | --- | --- |
| | | |
| | | |
| Diana | Emma | Jessica |
| | | |
| Kim | Libby | Mallory |
| | | |
| Natalie | Rebecca | Sarah |
| | | |
| | Sydney | |
| | | |
The Dream Doll Designer dolls had a very extensive clothing collection that was unique because the pieces were all available separately: shirts, pants, skirts, shoes, etc. The clothing was grouped into five different clothing lines by style. You could mix and match or you could buy complete outfits: 10 per clothing line for a total of 50. DDD also had furniture, doll care accessories, storage and jewelry. Click on the line's name to view catalog pages:
| | | | | | |
| --- | --- | --- | --- | --- | --- |
| Now | Summer Sizzle | Monterey | Pansy | Urban Chic | Accessories |
| School clothes and casual Fall styles. | Summer outfits including beachwear. | Casual clothes in primary colors that the catalog describes as having "West coast flair". | Spring outfits, both casual and dressy. Named after the pansy prints used in many of the outfits. | Fancy clothes for the big city sophisticated doll. Lots of velvet, Chinese "silk" bocade, satin and sparkly glitter knit fabrics. | Undies, socks, shoes, furniture, jewelry, etc. |