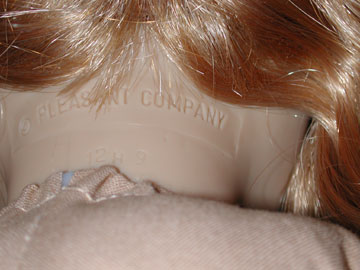 When trying to identify a vinyl play doll that you are unfamiliar with, the first place to look is on the back of her neck. Generally you will find the doll manufacturer's name or logo incised in the vinyl. Any incised numbers present mean different things depending on the manufacturer but often are the mold number that is used to produce the head. Sometimes doll artists will sign their dolls on the back of the neck near the logo; this is where you'll find Heidi Ott's signature in particular. Often included with a signature is the doll's number and number in the edition if it is a limited edition, such as 11/300. (Lower numbers are generally more sought after in limited editions because the molds produce more perfect copies when new.) More often, signed or numbered dolls are signed on the cloth torso, sometimes in a stamp telling more about the doll.
Dolls that are considered collectible by their manufacturer may also include a Certificate of Authenticity in the box, which is where you might also find the artist's signature and/or edition information.
Hang tags are paper or plastic tags that are usually attached to the doll's wrist and provide identifying information or care instructions for the doll.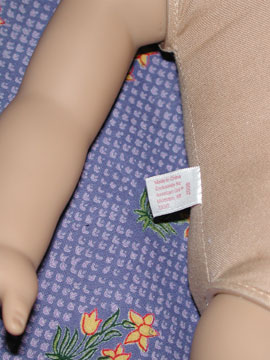 Another way to identify the doll is a body tag. The tag typically gives information about where the doll was made (most often "Made in China"), the company and sometimes the year.
The least reliable way to identify a doll is a clothing tag since there is no way to be sure the doll has not been redressed.
Finally, if you still can't identify your American Girl-type play doll, your best choice is to post a picture on one of the large discussion lists, like AGBuddies, where someone is almost guaranteed to recognize your doll.
Click the Back button to return to Anatomy 101.