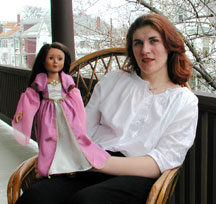 Like many doll designers, Mihaela comes to the doll field from the fashion industry. Mihaela has degrees in fashion design and textile engineering and she ran a factory in Romania that produced ladies' designer clothing. She came to the U.S. in the mid 90's seeking greater opportunity and took a job as Product Development Director for Kid Galaxy/Just Pretend which later became iDolls.com. There, she was involved in the creation of the Stardust Classics, Little Sisters and Dream Doll Designer doll lines. "This was a dream job for me and I was very, very disappointed when iDolls.com went out of business." That was when she, with the help of Vernon Thornblad, the former Art Director at Kid Galaxy and sculptor of the Stardust Classics dolls, began work on new dolls. "I wanted this to be almost like a continuation to the Stardust line", she said, "with new faces and lots of costumes to choose from." Mihaela continued to work at Kid Galaxy until recently when she left to devote full time to her new venture.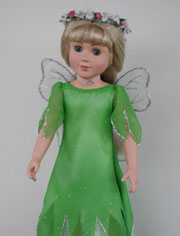 Mihaela wished to create dolls with beautiful faces and went through several prototypes before settling on the final molds, face paint and hair styles. She made changes based on feedback from friends and colleagues, from market research and from doll fanciers she contacted through the Internet. Because the dolls are manufactured in China, it was a lengthy process before Mihaela was satisfied with the appearance and quality of the dolls. The kinship with the Stardust Classics dolls is evident in the sculpture (in this case done using a 3D drawing program on a computer) and in the costuming.
When asked if she played with dolls as a child, Mihaela's eyes lit up. "Yes, I had many dolls, mostly vinyl. My mother still keeps my room as it was when I left Romania, so they are still there." Mihaela loved making dresses for her dolls, usually from her mother's cast-off clothing because she admired the fancy fabrics and trims. "My mother was a bit old-fashioned in her dress", she said, "but I liked that because I could make more interesting things than I could from the other fabrics that were available."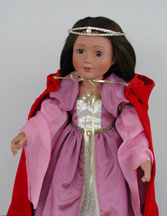 The Julia doll has authentic Renaissance and Medieval princess gowns that reflect her creator's interest in history and these periods in particular. Isabella has shimmering, flowing fairy costumes that come from Mihaela's love of fantasy and her desire to have children use these dolls as springboards for their imagination. Both dolls have extras that include capes and headpieces. This Fantasy Adventure Collection of clothing is just the first that is planned. I saw trendy and sporty modern outfits that are already prototyped in her studio.
The Carpatina Dolls are collectible but they are meant to be played with. "I expect adult collectors to want these dolls but I also hope they will be loved by young girls." Because of this, Mihaela said, she had to change her plans in order to keep the dolls affordable. The dolls will come in simple starter outfits, reminiscent of the dresses she designed for the Little Sisters dolls. The more lavish outfits,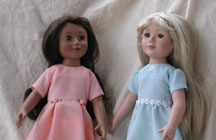 which even include some fabrics she designed herself, will be sold separately. She designed the outfits to be beautiful but not too delicate so they can withstand real play in the hands of children (though not younger than three years, she warned). In the future she hopes to have stories written for the dolls based on her ideas. "I would like a short story to be included with each new costume so that they can be put together to be a book about each girl's adventures."
With the economy in its current state it is a risky time to be launching any new business. However, Mihaela believes that iDolls.com failed for many of the same reasons so many other dot-coms failed, not because of any lack of market for play dolls. She is working on advertising to boost awareness of the dolls with the hope that she'll be able to introduce another to the line next year. (She hinted that the new doll will have red hair and green eyes and contemporary tastes.) Carpatina Dolls are priced competitively with and can wear fashions made for dolls from the Magic Attic Club, now owned by Marian, LLC. Stardust Classics clothing and other clothing for the Kid Galaxy/Just Pretend doll lines, some of which was designed by Mihaela herself, also fit the Fantasy Adventure dolls.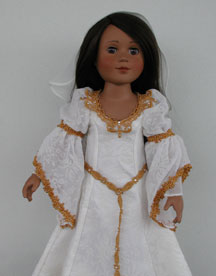 Carpatina Dolls are a beautiful new addition to the vinyl play doll market. It is exciting to have something new and yet so familiar to add to our collections. I was so impressed by the beauty and quality of these dolls that Julia in her white dress will soon be part of my personal collection.
The dolls can be pre-ordered now at www.carpatina.com where you can also see Mihaela's line of Renaissance, Medieval and Gothic adult clothing. At her web site you can also purchase some Stardust Classics and Little Sisters items. The Carpatina Dolls are $69.00, the Fantasy Adventure Collection outfits start at $34.00 and the extras are $28.00. The dolls will come in sturdy boxes. Carpatina Dolls will be sold in select doll stores, and also through the company web site and a catalog that should be released before the 2002 holiday season.