Notes
The 18" Ann Estelle doll was first released in 2001, following the popularity of the 10" version which debuted in 1999. She is actually 19" tall since Robert Tonner reused the "Penny" body that he had sculpted for the 19" Penney and Friends dolls for JC Penney the year before. The 18" label was probably used for marketing reasons since they are most similar to and can share many clothes with popular 18" vinyl dolls like Magic Attic. You can see how Ann Estelle compares to 18" Magic Attic Alison in these pictures:
| | |
| --- | --- |
| | |
Ann is an extremely high quality play doll made of the best materials. My only issue with Ann's construction is her flange-jointed legs which make her a bit stiff to pose and hard to dress. As noted above, 18" Ann Estelle's body was originally sculpted by Tonner for JC Penney's Penney and Friends dolls. The same body was reused in 2002 for the Robert Tonner Collectibles, Betsy-faced dolls. Most recently the body was used again for Linda Rick's Lovee/Key to My Heart dolls which are still in production.
Ann always comes with her signature glasses and, if you look closely, you'll notice a slight "lazy eye" where one eye points slightly farther away from her nose, which is (reportedly) intentional and appropriate to her character. She usually comes with a short, blonde bob but was also produced with long blonde hair (Boating Party) and red curls (Scottie Skirt and Saddle Shoes).
The dolls and their fashions are taken from illustrations by Mary Engelbreit -- primarily paper dolls published in her "Mary Engelbreit's Home Companion" magazine. The 18" fashions have always been larger versions of outfits created first for the 10" Ann Estelle dolls. (Tonner has also done 8" and 29" versions of Ann, but the 10" is always the trend-setter.) Here are two of my Anns pointing out the Classic Sailor and May Flowers outfits in a ME print that normally hangs in my doll room: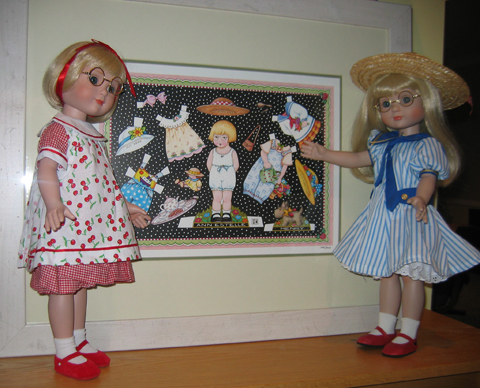 A collector named Teri Pettite has made a wonderful set of webpages she calls the Tonner Mary Engelbreit Comparison Guide, showing the Ann Estelle dolls (of all sizes) and the source of the illustration on which the doll's costume is based.
Many collectors were saddened by the decision not to produce the 2005 dolls and to discontinue the line. The official, company line is that "there are no plans" to make the dolls in the future. They are expensive for and not really marketed as children's play dolls but they are not your typical adult collector doll, so sadly they did not sell as well as was hoped.
Here are links to the archived catalog pages on the Tonner Doll Company website (click your browser's Back button to return to Just Magic):
Dressed Dolls:
| | |
| --- | --- |
| | |
| | Dancing Into My Heart (2001) - never produced |
| | |
| | |
| | |
| | |
| | |
| | |
| | |
| | Anything's Possible (2005) - never produced |
| | Easter's Best (2005) - never produced |
| | Once Upon a Time (2005) - never produced |
Outfits and Accessories:
| | |
| --- | --- |
| | |
| | |
| | |
| | |
| | |
| | |
| | |
| | Hippie Chick (2005) - never produced |
| | Symphony (2005) - never produced |