Doll Line

18" Vinyl dolls

Manufacturer/

Distributer

Artist

Tawny Nix

Production Years

2005 - present

Size

18"

All vinyl, flange joints

Inset acrylic, fixed
Synthetic

"Tawny Nix, © 2005" stamped on upper back plus edition number

Retail Price

$99-$140 ($50 for an undressed doll)

Clothing/Accessories

Not sold separately

Clothing Fit

These dolls fit Magic Attic, Carpatina and Just Pretend clothing. Her feet, however, are bigger and fit American Girl-size shoes (which still may be a bit snug).

Dolls in Series

Numerous

Books?

None

Sources

Company website and retailers (available from the List of Retailers page on the website). I bought my doll from Garden of Imagination.

For More Information

See company website

Notes

Tawny Nix has been making beautiful, cloth over porcelain dolls for many years and recently, in 2005, introduced a new line of vinyl, 18" dolls. Here is the the information "About Tawny Nix Original Dolls" from the company website:

Tawny Nix Original Dolls was founded in 1998, with a line of unique, hand made, cloth over porcelain dolls. Tawny has designed dolls for the Danbury Mint, the Marie Osmond doll line, HSN, HSE Germany and most recently, Paradise Galleries. "Our goal is to develop new and exciting doll lines in a variety of mediums - designs and sculpts that will stand the test of time, giving our collectors quality dolls at affordable prices." Tawny's dolls have been nominated for Dolls Magazine prestigious Award of Excellence, 2001-2005, Dolls Magazine Diamond Award, 2005, and the DOTY (Doll Of The Year) Industry Choice award, 2005.

Tawny's 18" vinyl dolls make wonderful companions and display very well with Magic Attic Club, Carpatina and Just Pretend dolls. They are very close in size to these dolls, as you can see below in these pictures comparing Tawny Nix Tessa to Magic Attic Chloe.
The major difference in size between the Tawny Nix doll and Magic Attic is the feet -- Tessa has rather large feet and it was a stretch (literally) to get her to fit even into shoes intended for American Girl dolls. Unlike American Girl, though, her feet are very pretty and well-sculpted. They also help her to stand quite well, even without the aid of a doll stand.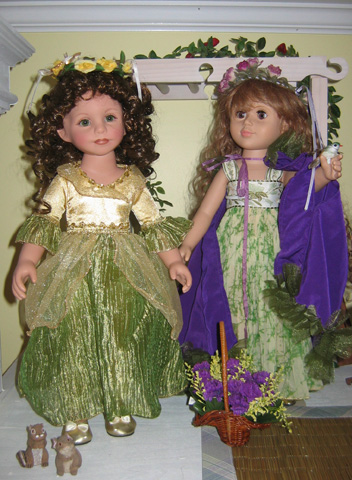 In the picture on the left, you can see Tessa wearing a Just Pretend, Stardust Classics gown made for Laurel the Wood Fairy who is standing to her right. As you can see, it fits her as though it was made for her. And with her pixie-like looks, especially her ears, I think she makes an excellent Wood Fairy.
Tessa's original dress, a mauve floral pinafore over a off-white, subtly printed dress, is of outstanding quality materials and construction. The dress' many layers, slip and pantaloons are accented with very lovely trims. Everything is finished extremely well and there are only snaps and hook-and-eyes used, no damaging Velcro. Tawny's hair and clothing styles remind me of the work of Linda Rick: old fashioned and with big hair in fancy styles.
Tessa's vinyl, wig and eye quality are all excellent; noticeably better than the Stardust Classics and Magic Attic dolls I'm comparing her to in these pictures. She does have flange-jointed limbs (unlike those dolls' strung limbs) which makes her a little stiff and makes it hard to get her arms into some clothes, but her joints seem sturdy and likely to hold up very well to play. The dolls' painting, including subtle shading on the limbs, is very natural looking and well done.
All of the 18" vinyl dolls share the same face mold. An option that makes these dolls very affordable is the Dress A Doll that is available only through the company website. She is only $50 and you can chose your own hair color and eye color.
I'm very happy with my Tawny Nix Tessa. She's a lovely, great-quality doll who fits in well with a variety of other dolls in my collection. I'm very pleased that Tawny decided to try her hand at vinyl dolls I expect and hope that she'll do very, very well with them.