The first thing you should do when you get the doll is to remove all her clothing so you can look her over thoroughly.
If you have a camera, take some "before" pictures of her. Don't forget to take a picture of her hair from the back. If your camera is digital or you can get the film developed to CD, all the better; you can share the before and after pictures with your friends on the message boards and get the kudos you deserve. Or go to the eBay listing and save those pictures before they disappear.
Start your doll's restoration by looking at her body. Put her hair in a ponytail or braid to get it out of the way for now.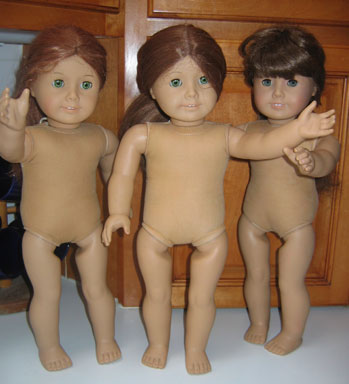 Here are our three volunteers who are going to help us demonstrate doll restoration (click on the picture for a close-up). On the left is Felicity #1 who came from a secondhand shop. She wasn't a great price but she has that lovely, bright red hair of the early Felicitys. Felicity #2 came from a doll show (bought for her clothing collection) and Molly, on the right, was that impulse eBay "Buy It Now".
Does your doll have the body style you expected? Maybe that doll who's "just like an American Girl" that you bought from eBay turns out to have soft shoulders and thighs. True, you should have asked the seller before the auction ended, but it's too late now.
Are you happy with her body style the way it is?
| | |
| --- | --- |
| | Click on the Yes button below to go on to the next step. |
| | Click on the No button to open the "Body Swap" article. |