Notes
This 18" vinyl version of Madeline joins the company's existing 8" poseable and 15" rag doll interpretations of the children's literature classic. (The doll is actually closer to 17" tall than 18". ) This Madeline was originally sold exclusively through FAO Schwarz, starting with the 2003 Holiday Catalog. Then she became available through other Learning Curve retailers in 2004. Given her high price of $80, I expected better quality from this doll.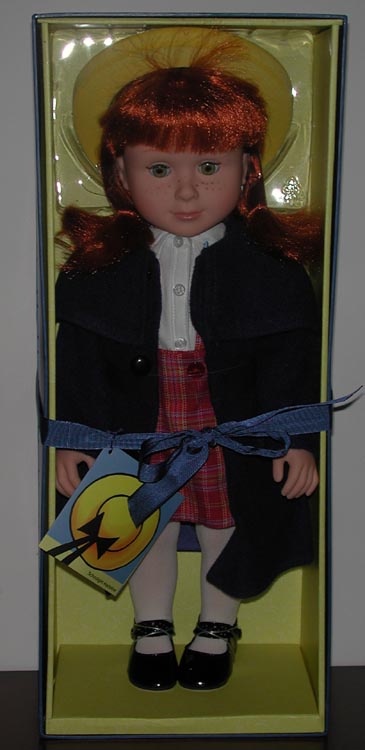 Her coat is beautiful and nicely lined. She wears a plaid skort with suspenders, white blouse with fleur de lis embroidered on the collar and black maryjanes that close with a snap. The coat snaps shut behind faux buttons but the other clothing has Velcro. She wears white tights but no panties and her hat is a cheap, flocked material. Other than the hat, the rest of the materials and the workmanship on the clothes is quite good.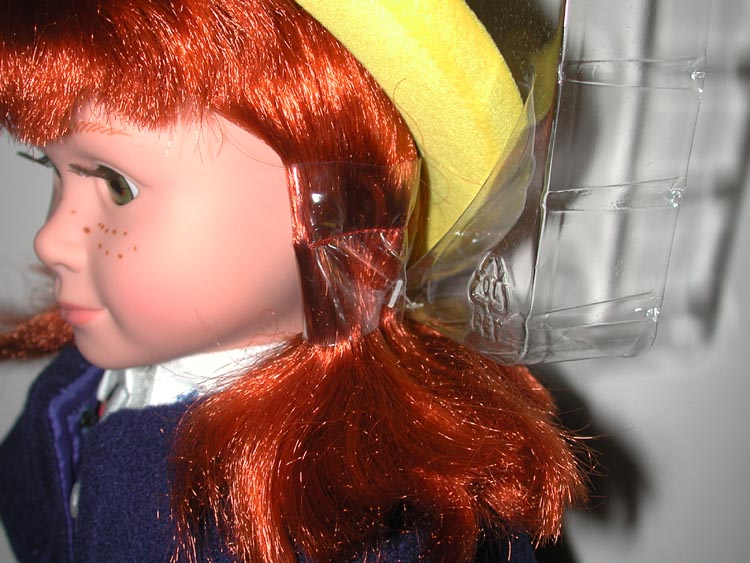 The doll comes in a beautiful and sturdy box, tied with a ribbon but she is bound and wired into it in such a way that it is difficult to remove the doll without damaging her. Her hair, for example, is sewn onto plastic on the sides. After carefully freeing her hair, I still found it to be choppy and uneven. The hair is rooted and has an unnatural, shiny look, not to mention the hairstyle is all wrong for Madeline -- in Bemelmans' books, Madeline never had bangs. Her green sleep eyes are nice and natural looking and her freckles are cute, but overall the doll bears little resemblance to the illustrations in the books.
The doll has Madeline's appendix scar embroidered on, which is a nice touch. Her vinyl is very peachy color and good quality.
This Madeline is roughly the same size as American Girl dolls with the exception of her unnaturally long arms and large hands. This difference does cause some problems with clothing fit (not to mention it looks quite strange). See below for comparison pictures with American Girl.
The low quality hair and the strange arms on this doll were a major disappointment. Madeline is a such a popular character and the 18" size is so popular with young girls, it's a shame the company didn't execute better. Perhaps they will try again.