The Dear America dolls were available briefly in 1999 and 2000. The Scholastic book and video series is widely used by educators and is aimed at grades 4-8. The dolls actually come packaged with a blank diary, not with the book that corresponds to the doll's character. The rooted saran hair of these dolls is their worst feature, in my opinion, though it is styled nicely. The dolls have a rather bland face with the pursed mouth of many Alexander dolls, but the coloring is very nice. All four of the dolls have the same face mold. The clothing is the doll's best feature. Catharine Carey Logan, for instance, has a nicely made cotton dress with an apron and head-cloth on top and a shift and pantaloons underneath. There is a small amount of Velcro but mostly snaps. The dolls' breastplate allows them to wear lower-necked fashions nicely, such as the blue American Girl sweater shown below. These dolls have not held their value on the secondary market so can be found very reasonably.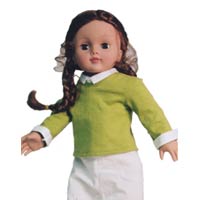 Recently, The Doll Market has begun carrying a contemporary girl version of this doll. Her name is Ashley and she is very reasonably priced. Ashley has brown hair done in a very attractive French braid and blue eyes.
In the 2005 Christmas season, the discount store Costco sold a blonde version of this doll called "Best Friend Kelly". She has long, straight blonde hair with bangs and blue eyes. Like Ashley, Kelly was also a contemporary girl. And in 2006, both a blonde and brunette version were marketed under the name "Sweet and Chic". This time the dolls had an extra outfit with them.
Other incarnations of these dolls, often with other face molds include:
* Mia Bella (Toys R Us)
* Doll Factory (FAO Schwarz)
* Friends for Life (Walmart)
* Fashion Doll (Target)
* Alexander Girlz (Costco)
* Dolly & Me (Sears, Dillards, Kohls)
* What-A-Doll (Kmart)