Notes
Artsy, Inc. is a Canadian toy company that also manufactures arts and crafts kits for girls. The Awesome Girls were their only foray into the 18" play doll market and were only available for a short time in 1999-2000. These dolls were the recipients of the Dr. Toy Best Vacation Toys award in 2000, as you can see from the sticker on their box.
The dolls are very inexpensive but quite cute for the price. Their faces are adorable. They have low-quality, rooted hair and quite nice fixed eyes. Their face paint is subtle and natural. Their vinyl is nice and a good color but my main issue with them is their white cloth, floppy bodies. The bodies are of decent quality material but the one I have is drastically understuffed. My poor Awesome Girl can't hold her head up straight and my daughter found her frustrating to play with because she kept flopping all over. If she is going to stay at our house she will either need to have her head removed and more stuffing added or she will need a body transplant.
Her clothing is basic but cute. The materials are synthetic and the seams are not serged (one of them had a split even though the doll has gotten very little play).
Compared to American Girl, the dolls are a little small as you can see in the comparison pictures below showing my Awesome Girl on the left and American Girl Felicity on the right.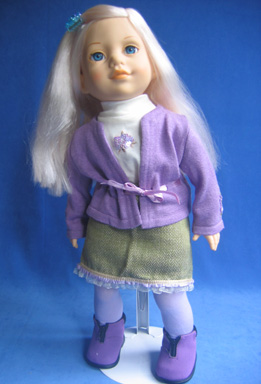 On the right is the Awesome Girl dressed in the American Girl Go Anywhere outfit. As you can see, it is a little big on her but it is not too bad. The shoes are too big but they stay on because of they style. She would fit better in Magic Attic shoes.
Speaking of Magic Attic, whoever sculpted these dolls must have been a fan of Robert Tonner's Magic Attic sculpt. In the picture below you can see the Awesome Girl on the left and Magic Attic Alison on the right.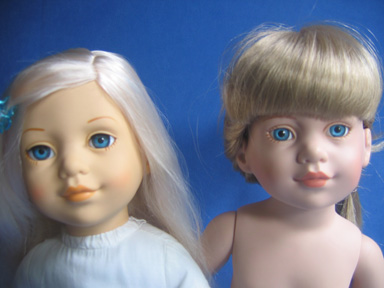 If you are a fan of Magic Attic dolls, these Awesome Girls are interesting because of the resemblance. And they are quite cute dolls besides.