Notes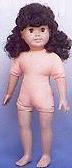 When these dolls were introduced in 1996, they were a kit. The dolls had soft-shoulders and upper thighs and the vinyl head and limbs came attached to the unstuffed fabric body. You had to stuff the body will Poly-Fil and sew her up along a horizontal flap in her back. They sold an optional armature so you could make her poseable if you wanted. After a few years they started selling them pre-stuffed and sewn (though still nude). The current dolls have much-improved, articulated bodies and are still sold nude. See the comparison pictures below showing how their bodies compare to American Girl.
They are sold in craft stores, for the most part (see the Where to Buy link on the company website). Because these stores routinely have 40% and 50% off coupons, you can get them very cheaply.
You get what you pay for. If you have one of the older dolls, expect her hair to turn into a tangled mess. The newer dolls have better hair though it still has a very shiny, synthetic quality to it. Now that they have articulated bodies, I use them for body donors in a pinch.