Notes
I like these dolls! I didn't expect to, but I do. The dolls sold at discount stores are low price and usually of corresponding low quality. But these dolls are a cut above the rest of the low-end American Girl wannabes. Their best feature is their cute face.
Her vinyl and cloth body quality aren't up to American Girl standards, but they're quite acceptable. Her limbs and body are very similar to American Girl as you can see from the pictures below comparing Laura Ashley's Rebecca Louise on the left to American Girl Felicity on the right.
The Laura Ashley doll's body is slimmer than American Girl but not as significantly as the other low-end dolls'. The construction is quite good. The LA neck is larger around than the American Girl's.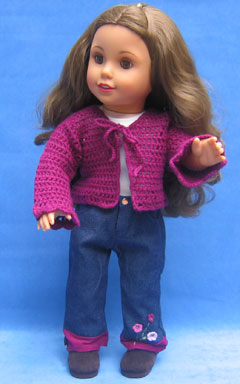 The difference in size between the two dolls is not too large to be a problem with clothing fit. On the left you can see my Laura Ashley doll wearing the AG Flower Power outfit. It fits her very well except it is a little baggy in the waist. Magic Attic Club clothing would definitely be too small for her.
My two dolls came to me nude but the starter outfits for these dolls look absolutely adorable, such as the pastel print smocked dress at the top of the page. (This is a catalog photo.) The Laura Ashley company is a fabric/interior decorating products company from England which has it's own stores. The signature style is sophisticated English country. The clothing style for these dolls is vastly superior to that of the other low-end doll lines.
It is the face sculpt which is the most important feature of a doll in my opinion. The two close-up photos below of the blonde Marissa Lynn and brunette Rebecca Louise show what they look like quite well. The doll's vinyl is very peachy, which can make other dolls, like American Girl, look a little sallow standing next to them, but it is pretty. There is an African American version of the doll also and her skin tone is lovely. The dolls' face painting is nice and they do not have a "made-up" look to them -- they look like sweet ten-year-old girls.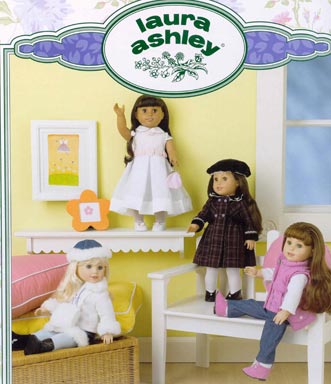 The picture on the back of the Laura Ashley doll box
| | |
| --- | --- |
| Marissa Lynn | Rebecca Louise |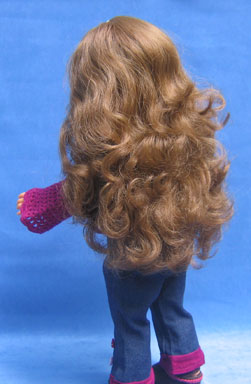 On the left is a photo showing the back of Rebecca Louise's hair. As you can see, it is very thick and has big curls. The hair is rooted Saran and isn't nearly as good quality as an American Girl doll's wig, but it is quite nice for the price of the dolls. A little girl would probably have trouble brushing this doll's thick, thick hair and keeping it looking nice. The blonde Marissa Lynn's hair is not curly and is not quite so thick. It is also nice that the dolls are available in either bangs or no-bangs style, along with slightly varied hair/eye color combinations like blonde with brown eyes, brunette with blue eyes, and so on.
The Laura Ashley dolls were exclusives for Toys R Us and Geoffrey, Inc. (the stamp on the back of their necks) is the parent company name. The dolls were quite inexpensive at $20 and had a fairly extensive line of clothing available separately.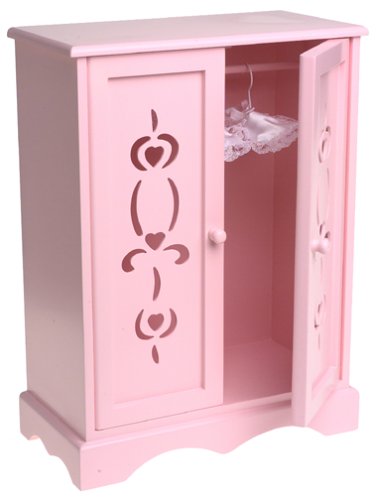 There was also some decent wood furniture, including a bed, rocker and wardrobe. You can recognize the furniture because it is painted pale pink and has decorative cut-outs. There was also a rather low-quality doll trunk.
The dolls are fairly easy to find on eBay or second hand stores and the prices are very reasonable (generally $10 - $18). Try to find one that is still in its box to be sure to get one with good hair. It's also worth trying to find dolls that are in their original starter outfits.
In summary, I would definitely recommend the Laura Ashley dolls. Don't expect American Girl quality but they make great friends for the American Girls and display well with them. And as a little girl's "starter doll", they are an excellent choice.