Notes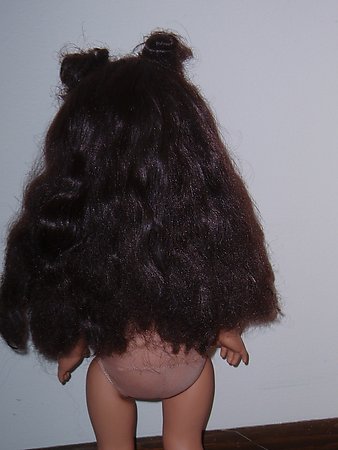 There are many different versions of the Meritus/Elite Dolls. The most common is the Girls On the Go that was distributed by Toys R Us. These are no longer being made but they are very easy to find on the secondary market and the prices are quite low ($5 - $10). Note that the new dolls that Toys R Us is selling as "Girls On the Go" are by Tollytots and are very different.
These dolls have decent body quality (I bought a bunch for $6 when they were being closed out and I have used them for "body donors".) And I think their faces are kind of cute. The hair, however, is the worst feature -- it will turn into a frizzy, tangled mess. (Read the reviews on epinions.com.) On the right you can see a picture of SueM's Girls On the Go doll (that she and her daughter call Laura). The top knots are original to her hairstyle and long, wavy hair has gotten dry and frizzy.
Meritus dolls are very similar in size to American Girl dolls. Like the other low-end dolls, Meritus are slightly slimmer and their feet are slightly smaller. The sculpt of their limbs is very, very similar to American Girl.
The pictures below show American Girl Kirsten on the left and the Meritus Girls On the Go on the right.
The clothing is of medium quality but it is cute enough. Laura's original red sweater outfit is shown in the picture at the top of the page. They come with the icky plastic/rubber shoes that are extremely difficult to get on. The clothing is not tagged. There were separate boxed outfits available for the dolls.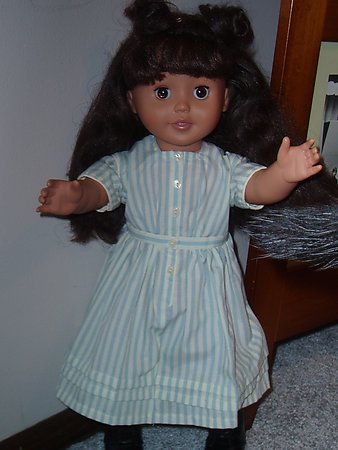 As you can see from the picture on the left, Girls On the Go fit American Girl outfits pretty well. This is Laura in Kirsten's Summer Dress. It is a little too big in the waist but fits well otherwise.
They're not "collector quality", but they are "wholesome little girl" dolls, much nicer for preschool and young school age girls to play with than Bratz or other tween dolls. However, don't be surprised if your little girl gets totally frustrated with her hair. Braid it right away or rewig her as soon as it frizzes if she is attached to her.