Notes
Corolle is a French doll company which was founded in 1978. It is known primarily for its vanilla-scented baby dolls, which are often a little girl's first "nice" doll. Corolle dolls are widely distributed in the U.S. and are easy to find in any quality toy store. Corolle has made larger, little girl dolls though the years, some identified as toddlers and some as "artist dolls".
In 2005, Corolle introduced Lili dolls who represent adorable, school-age little girls. The dolls won the Oppenheim Toy Portfolio Gold Award and the Creative Child Magazine Preferred Choice Award that year.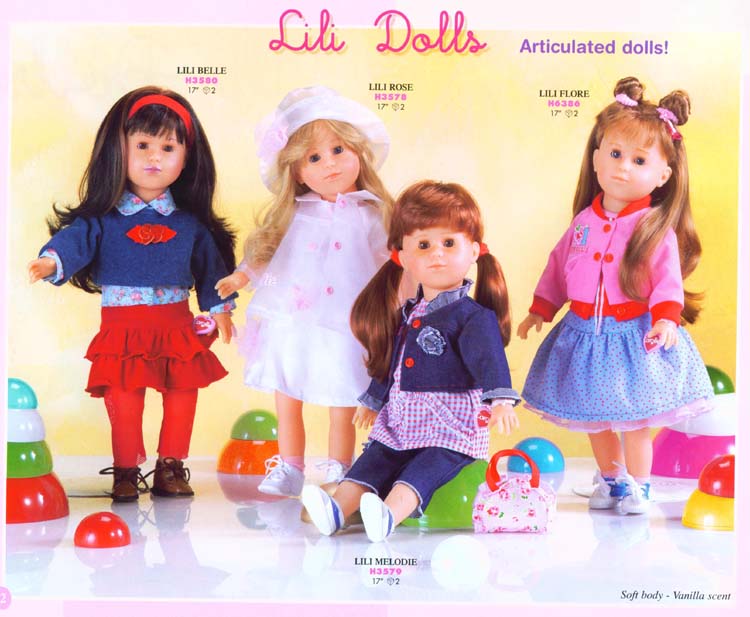 Here is their description from the Corolle website:
"Lovely Lili is an all-new Corolle doll for 2005. She stands 17 inches tall and has a slim, soft body and articulated legs so that, for example, she can sit down! Lili's wardrobe expresses her style: it is very up-to-the-minute, with colorful designs and bold fabric combinations."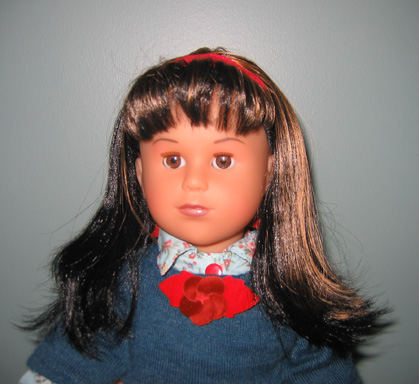 These dolls have acrylic sleep eyes and very good quality vinyl with a slightly translucent quality and the trademark Corolle vanilla scent. They have jointed heads and arms and a breastplate. As the quote above says they do have articulated legs, but it is cloth over an armature which means they can't wear some clothing styles, like bathing suits. Also, she has tiny hands and feet: she is using a doll stand in the comparison pictures below because I couldn't get her to balance on her tiny feet. It's a little easier to get her to stand on her own when she's wearing shoes. One of Lili's best features is her hair -- it is closely rooted, shiny and quite brushable. And, if you click on the picture of Lili Belle to the left to make it larger, you can see she has black hair with rather unique auburn/light brown streaks.
Lili's clothing is very well made with good quality fabrics and nice details. The clothing is tagged Corolle on the outside. It does use Velcro though there are some snaps.
The Lili dolls are slimmer and smaller all over than American Girl dolls and their clones. The pictures below show how Lili Belle compares to a Magic Attic doll (on the left) and an American Girl doll (on the right).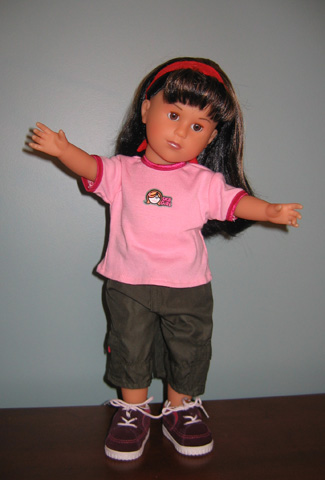 Magic Attic clothes are too small for Lili around the waist, though they fit well in the shoulders. Loose-fitting MAC dresses will fit fine. Lili actually fits better in most American Girl clothes except the shoes, of course. You can see her in the AG "SK8 Girl" outfit in the picture on the right. Most children won't care about the slightly baggy fit but she really is a unique clothing size and fits best in her own clothes sold separately by Corolle.
Lili dolls are cute and would be a particularly good choice as a "beginner" doll for a little girl who may not be ready for the American Girl experience yet.