Here are some new adventures we'd like to see for our dolls. Keep sending them in even though the contest is over, just for the fun of it. They don't have to be serious or even likely; for example, I'd love to hear what accessories you'd expect to see from Rose's Reform School Adventure! If you want to illustrate your idea with sketches or photos, send those along too. When the contest ended, we forwarded the final list to Marian, LLC to let them know that we wanted more adventures! Unfortunately, for reasons you can read about in the Magic Attic Overview and History, nothing ever came of that.

JoyaC: (Added 1/7/06)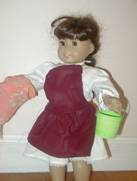 Megan in Victorian Times

Megan is wondering what to wear on Halloween. The school is having a Best Historical Costume Contest. All the time eras she thought of having were taken by others! When she tries to talk to her Mom or Aunt Francis they are busy. In desperation she visits Ellie's house and puts on a Victorian Servant Costume. She looks at the Mirror. Megan is in a servant girl's room. She is called to do some chores. While she is scrubbing the floor of the garden house, she over hears a conversation about kidnapping 'Lydia'. Lydia is the rich girl next door. Megan warns Lydia and the Police. The Police do not believe her. She hides by Lydia's house and one night she sees a man hiding in the bushes beneath Lydia's upper story bedroom. She calls the Police, and this time they believe her. The man is arrested and Lydia gives Megan her doll as a token of appreciation. All is well and Megan returns home. Ellie lets her keep the doll and Megan borrows the costume for the contest. Megan wins 1st prize for originality!
Outfit: A patched pinafore apron and a simple white frock.
Accessories--A doll similar to Samantha's Nutcracker doll, 'gold' medal with 1ST on it, and a broom, dustpan, bucket, and a scrubbing rag.
Megan in Fairyland
Megan is writing a report on treecutting and treesaving. She's written all the facts and what she feels about it. But the teacher says to write what it's like really saving them. Megan thinks she should look in the mirror room. She sees nothing. But then she finds a fairy costume. She forgets about school, and slips on the costume, and the matching necklace and garland crown. She looks into the mirror…….and finds her self in a forest, right in the middle of The Fairy Counsel. There she learns about humans who are destroying the Forest. She goes as an ambassador to the humans and explains about how animals and plants and even people need the Forest. They finally understand her and the forest is spared. The fairies thank her and she comes home. The Report gets A+.
Outfit- Shimmery, gauzy, green fairy dress and flower head wreath.
Accessories- A necklace like the Medieval Princess one (AG), A 'report', a mini 'Tree' , wings , a few of those 'fairy' dolls (mini) .
Chloe and the Runaways
Chloe is bored one day and decides to go to the attic. She finds some old clothes and a tin crown. When she puts them on and looks into the mirror, she finds she is "Lady" Chloe, queen of the Runaways, some orphans in London determined to get to the New World. Chloe helps them to the docks and on to a ship. But then a worker sees her. She tells the other Runaways to go into the ship. As the worker is about to grab her, Chloe sees her reflection in the sea waters and goes back to the attic. She wonders if they ever made it to America. Later, she looks in the attic and finds an old journal page telling about how a band of children called the Runaways got to the US!
Outfit: A old, patched dress and a tin crown.
Accessories: An old sack with a metal cup and a handkerchief for "stowing away".
MariaG:
Chloe's Hospital Adventure
Book: Candystriper Chloe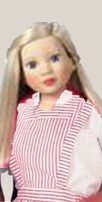 In Chloe's first adventure through the magic mirror, she becomes a volunteer at the Mercy Meadow Hospital where she learns the value of compassion and doing what we can to help. Her job is to make the patients' hospital stays more pleasant but mean Mr. Krumpton is making it hard for her to enjoy doing it.
Outfit: Candystriper Uniform and a hospital Johnny for the "patient"
Accessories: Hospital bed that raises and lowers. Medical kit with stethascope, blood pressure cuff, and thermometer. Hospital food tray. Puppets like those she uses to entertain the little kids.

CherylT:
My idea is to have one of the MAC dolls have an adventure in cooking, complete with chef jacket, black pants and chef hat. Accessories could be bowls, wooden spatulas, etc. I came up with this idea recently when I saw my own daughter Sarah, now 20 years old, in a chef's outfit for a project she's doing in college.
[Ed. Note: What a yummy idea! Wouldn't it be great to have a doll-sized stove? Maybe "Keisha's Cooking School Adventure"!]

KarlaH:
With a backdrop of Marian Middle School, it seems to me that the ideas would be endless. The clothing and accessories would of course be adorable outfits for fall, winter and spring as well as books, school supplies, desk, chair, laptop, book bag, lunch bag etc.
Scenarios for school and after school could include:
A Spelling Bee
Science Project
Etiquette Class
Field Trip museum, zoo, etc.
Drama Club preparing for a production of Annie, complete with curly red wig, Sandy and orphan costumes
Music Class
Computer Club
Essay Contest
Intramural Sports
Trip to the principals office!
Cafeteria
French Club
Pep Club
Working on the school newspaper
There would be countless opportunities for teaching as well, self esteem, nutrition, ecology, self-defense, peer pressure, The Golden Rule, history etc.
[Ed. Note: This would be a great way to involve all the girls in another group adventure.]

DawnS:
I'll start off with the great Woodstock Adventure. I suspect that the girls were looking at one of those old psychedelic posters and just whooshed off to the big concert. I hate to even think what they might have as accessories. The only things that I made are the vest Cassie is wearing (the same vest as in her Gathering Eggs photo by the way. It is pinned in the front and gathered a bit in the back for that photo) and my mom made the shawl Kiri is wearing . I also made the jewelry.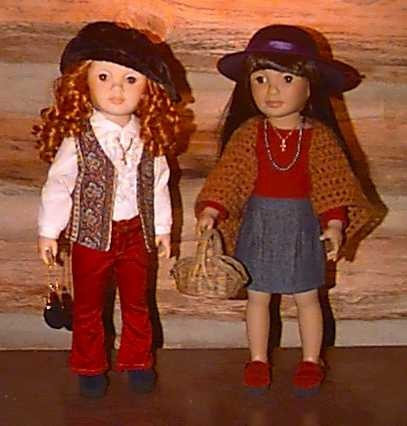 Kiri has an extra outfit in case the weather turns warm. I made this outfit. It's a copy of a skirt and halter top I wore in the late '70's. I'm also sending a scanned close-up of the purse.
[Ed. Note: Groovy! How about an electric guitar for Chloe? You're right, the obvious accessories for this adventure probably wouldn't make it past the Marian, LLC "Wholesomeness Test". :) ]

TimothyW:
Name: Military Brat Meghan
Book: Meghan Military Child Abroad
Meghan's father, a Lieutenant Colonel in the United States Army receives a Permanent Change of Station (PCS) to Stuttgart, Germany. Megan's family decides to live off post in the local community of Darmsheim, a small quaint village about 1 hour from the Black Forest. Although Meghan attends the 3rd Grade the Department of Defense Dependents School on Panzer Kaserne, she must make friends and learn the local language. Her best friend is a girl named Silke who lives next door. Through Silke, Meghan is introduced to the many wonderful but different customs of Germany. Meghan does face adversity when several children in the community band against her after the United States retaliates against a country that harbors terrorists who attacked several places in the United States. However, the children don't realize that Germany is the next country targeted by the terrorist group. Meghan is eating lunch at a local cafe with Silke when she overhears the terrorists planning their attack. Thinking quickly, she and Silke leave the restaurant and call Meghan's dad at work. Meghan fills him in with the details, the terrorists are captured and the lives of many innocent people in Germany are saved. Meghan becomes a local hero.
Outfit: A Bavarian style dress and hat with tights and German style shoes
Accessories: Eidelweiss necklace, a cell phone, a Boblingen Elementary School sweatshirt (DODDS school that she attends), a passport, a military identification card, plane tickets, a cuckoo clock, a boot for Saint Nicholas to fill on December 6, a Steiff teddy bear, a map of Germany, a schneebob (German snow sled), a brotchen, a wurst and a slice of kuchen (cake)
[Ed. Note: Cool! This would be if Tom Clancy starts writing for the Magic Attic Club. Unlikely, but entertaining to think about.]

LindaA:
New adventures I'd really like to see are for the "newest" MAC members -- the Asian Girl who is still "only a dream" to MAC collectors. Depending on her nationality, I'd like to see her go back in time to ancient China, Japan or Korea for an adventure, along with a Kimona, Hanbok or Chinese jacket & trouser set. Another "great" outfit & adventure idea for the Asian girl would be a "Karate Championship" adventure along with a "Karate" outfit to match (with different colored belts to show different levels of achievement). Now is her chance to become a great martial arts champion like her heroes: Bruce Lee, Jackie Chan & Michelle Yeoh, but should she allow a male "Karate" opponent (her age) to "beat" her to the championship after she learns he has a terminal illness and it's also his dream to become a "martial Arts" champion?

KaysieF:
I'd love to see an adventure involving Keisha and the "underground railroad" and the way they used quilts to give directions. I think it would be a wonderful way to tell the story of the ingenuity of the quilters and how they showed the path to freedom by the use of quilts.
Through the magic mirror, Keisha could experience one of her ancestor's path to freedom or as one who helped others to freedom. I haven't read Keisha's books :-( but I haven't heard anyone mention a story along this line.

Linda:
Name: A High Tech Adventure

A great adventure for the long awaited MAC Asian character would be to have her travel thru Ellie's mirror to the high tech world of modern Japan, which includes many types of robots, townhouses with revolving floors (rooms) and drive thru supermarkets (where shoppers are transported on monarail-type cars) - actually in existence!

While there she (MAC Asian character) is fascinated with everything she sees. She (MAC Asian character) befriends a little Japanese girl at a technology convention with whom she continues to explore about in contemporary Japan. Later she discovers her new friend is really a high tech robot with a realistic appearance and very human characteristics. Now she (MAC Asian character) must try to protect a her new friend from the president of the corporation who has been stalking them (the MAC Asian character & her robotic friend) and now wishes to destroy her (robotic girl) because she has taken many more human characteristics than they (manufacturing corporation) had ever hoped for or anticipated, such as human emotions and a will of her own!

Clothing for this adventure could include a long cotton-knit dress with characters of Japanimation (Japanese animation) or blue jeans and a t-shirt printed with characters of Japanese animation. Or a maid's uniform (those are very trendy in Japan's current pop culture!) Simulations of high tech gadgets, robotic animals (that simply operate like those inexpensive, wind-up toys) could be included as accessories in this collection.