You might want to wash your doll's cloth body because it is stained or because it smells bad.

You have three options for body washing:
A "sponge bath"
Hand washing
Machine washing
Sponge Bath
If the cloth body is stained, try using a washcloth on the stains first. Blot it with a damp cloth, perhaps with a mild soap, then blot with plain water and blot dry. If the stain appears to be ink, hair spray may remove it. Spray a cloth with hair spray and blot the stain, then absorb the hair spray with a dry towel. Use plain water after to try to remove the remaining hair spray.
Hand Washing
If you can't remove the stain with a "sponge bath", it's time to immerse the cloth body in water. I prefer to take the doll's head off, unstuff her, use a stain stick on the spots, then hand-wash in a sink or small basin with Woolite. This way I can keep the limbs with the open hole side down and try to avoid getting water in the hollow limbs (which might be hard to drain out properly, leading to mildew growth inside the doll). If any of the stuffing is discolored, I discard it and replace it with fresh PolyFil. If the doll has an odor problem, I always replace the stuffing and I add some baking soda to the water when I wash it.
Machine Washing
Machine washing sounds a little intimidating and does run a small risk of getting water into the hollow limbs or of saturating the body stuffing so much it doesn't dry properly. (I wouldn't try this in the summer if you live in a humid place and don't have air conditioning.) However, some doll lines, like Götz Precious Day (which are almost identical to American Girl in construction), make a selling point of being machine washable.
Joy has machine washed some of her dolls and she took these excellent pictures with comments: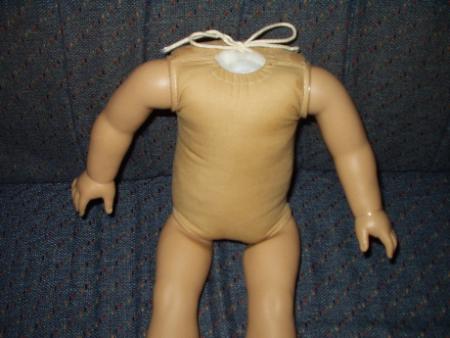 I decided to machine wash the body. To do so, the head must be removed, to avoid getting the eyes wet, which would cause rust. I tightened the tie after removing the head, to lessen the possibility of stuffing falling out.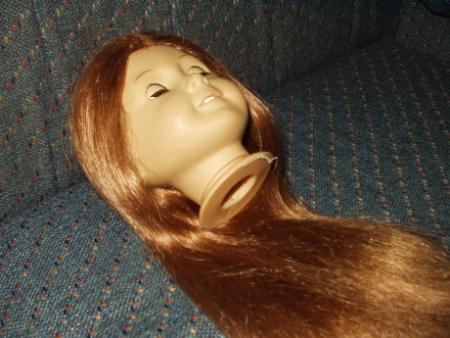 This is what the neck looks like.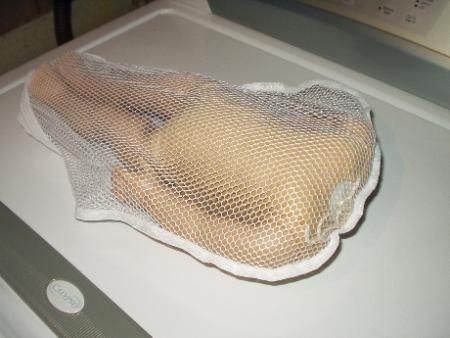 I put it in a delicate laundry bag, to help protect it.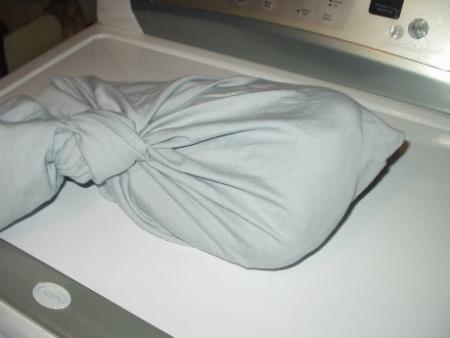 I also put it in a pillowcase, to further cushion it.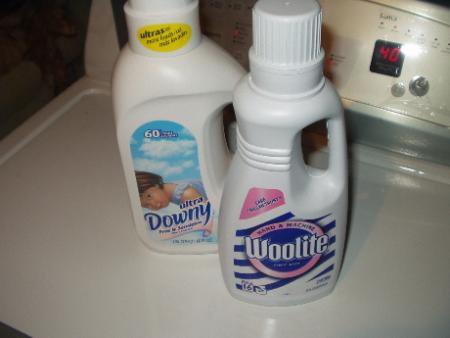 Perfume-free/dye-free Downey, and Woolite do the trick.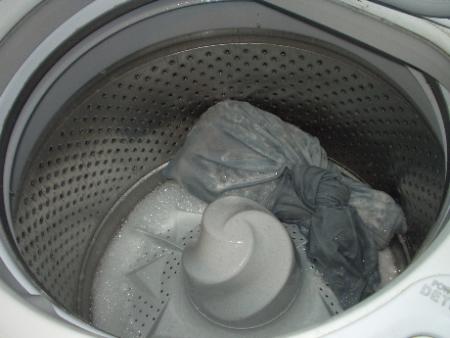 Ok, here we go!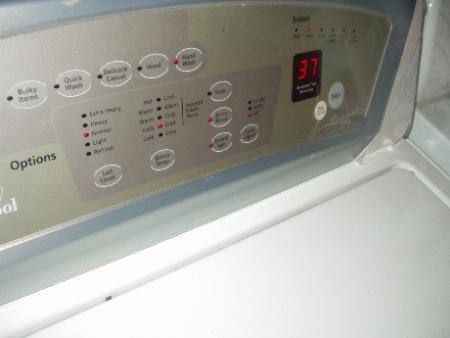 Cycle:handwash, Soil level: Normal, Temperature: Cold-Cold (75F), Extra Rinse, Extend Spin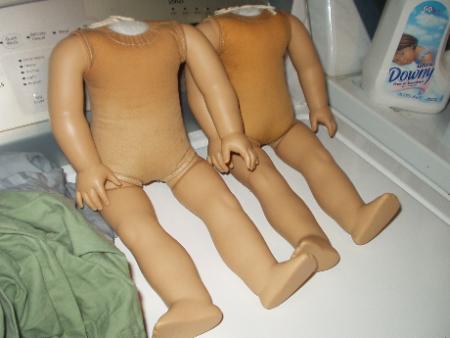 Look! We made it!
Air-drying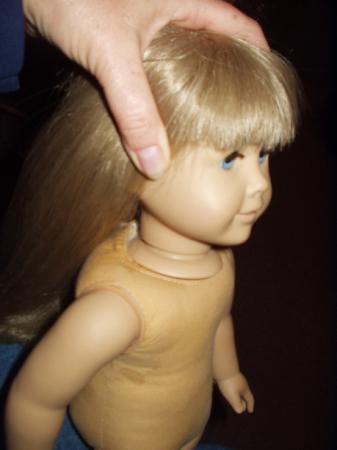 Putting the head back on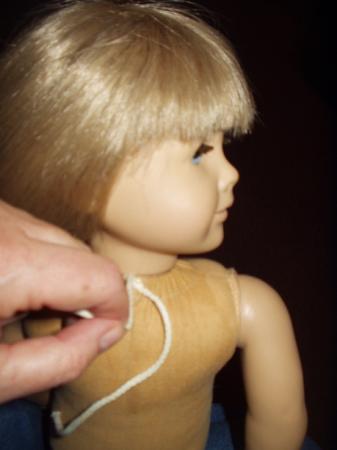 Tying the string again. Tie it three times (once plus 2 knots)
If you got here from the Doll Restoration Wizard, click the button below to go on to the next step.